Holly Odell

Playing the Opry with Jerry and Tammy Sullivan

---
I'm a lifelong touring and recording multi-instrumentalist experienced in traditional bluegrass, innovative bluegrass, Celtic, Django jazz and symphonic performance. I enjoy teaching master classes and private lessons to help young students and adults with violin and fiddle technique, improvisation and auditions. I also teach guitar, mandolin, 9-string Hardanger fiddle, viola and vocals.

Experience

Annual Europe Tour - Holly Odell Gipsy Grass - 2012 to present - Touring Barcelona, Northern Spain and France with Grazztrio, and Barcelona All Stars featuring leading Spanish pickers Lluis Gomez, Oriol Gonzalez, Maribel Rivero, Valenti Moya, Miguel Talavera and Joan Paul Cumellas.

Traditional and Popular Performance - 1973 to Present - United States and Overseas

Memorable performances include guest fiddle soloist with John Hartford's Steamboat Band and the Nashville Symphony and with banjo player Bela Fleck performing his Impostors Banjo Concerto with the Huntsville Symphony. Other great experiences include performances with Joshua Bell, Eugene Fordor, Patrick Rafferty, Yo Yo Ma, Kathleen Battle, Three Dog Night, Art Garfunkel, and Riders In The Sky.
Touring and sessions work with leading artists including Sonya Isaac, John Randall, Don Henry, Curtis Wright, Carl Jackson, Jerry and Tammy Sullivan, Marty Stuart, Jars of Clay, SheDaisy, Chalee Tennison, Lyla McCann, Mila Mason, Alan Jackson, Brad Paisley, Andy Griggs, Chely Wright, Terry Clark, Lewis Storey and John McFee.
I played and recorded with John Hartford's Steamboat Band for five years.

Favorite venues include performing at Telliuride opening for Emmy Lou Harris, and TV taping for New Country.

Performed with Donna Hammitt and Wild Rose at the St. Louis Steel Convention Missouri.

Played fiddle with Lyle Lovett and Vince Gill for the video taping of "Cowboy Man".

Grand Ole Opry and road tours with Charlie Louvin, Mel McDaniels, Bill Anderson and Brenda Lee.

Scandinavian tours - TV tapings and recorded with Norwegian artist Oystein Sunde, Steinar Albrigsten and the Gitarkameratene, totaling four Norwegian Grammy's in one year.

USO and overseas tours in Turkey, Italy, Germany, England, Scotland, Japan, Taiwan, Korea, Okinawa, Hawaii, Saudi Arabia, Greece, France, Switzerland, Denmark, Norway, Finland, Ireland, Holland, Wales, Canada and Mexico.

Endorsements

Schatten Designs Guitar - Mandolin and Fiddle Pickups
Winky Hick's - F5 Mandolins
Tacoma Guitars
Miktek Microphones
Alesis Recording Audio Equipment
Shure Microphones and headsets
Epiphone Guitars
D'Addario Strings

---
Tracks from the Hollywood Fiddle album with Shad Cobb, Richard Bailey and Terry Smith...
Grassy Fiddle Blues
Rutlands Reel
Tom And Jerry
Misery
Night And Day
Black Mountain Rag
Ashland Breakdown

Playing with John Hartford at Opryland in the '80's... (from YouTube)

Ohio River Rag
Orange Blossom Special
The General Jackson
Here In Love Again
Pennington Bend
Missisippi Valley
Short Life of Trouble

Other YouTube videos with John Hartford...
The Annual Waltz
All of my love for you
Track from the Personal Notes album with Boomer Castleman...
---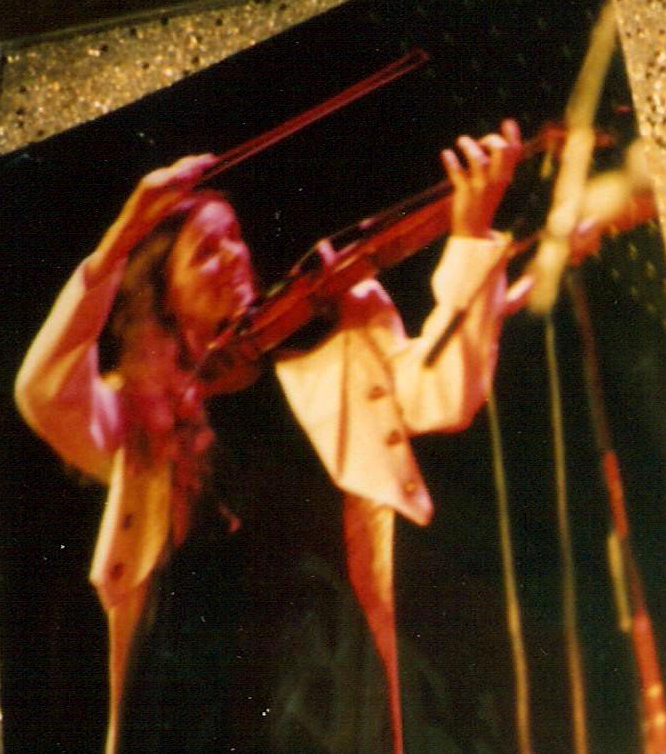 Showing off my new fiddle!


Click here for more photographs

Click here for information about lessons

---
Email Holly Odell at: hollywoodfiddle@yahoo.com